Our locations
San Jose
This is our main office for business. Our tech support center is located here, and well as other administrative activities.
Milpitas
This is where we have our main server equipment. This facility has all the bells and whistles of a tier 1 data center. Redundant power, fiber ring connection just to name a few.
Downtown San Jose
This is where our main routers are located. The facility is located at 55 S. Market St, which is called Market Post Tower, and is one the premier data centers on the west coast. Most traffic on the west coast travels thru this facility, that's why we chose to be there.
Partners programs
Accesscom Reseller Program
How would you like to earn 10% a month on qualifying products? We are always looking for ways to increase our customer reach. Our reseller program allows you to sell our great products to friends, family and business associates. If you would like more information, please fill out the contact form to the left.
Contact form
We look forward to hearing from you.
Fill out the contact form below and one of our customer support agents will get back to you. In most cases you will receive a response with a few hours.
Postal address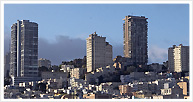 2355-B Paragon Dr.
San Jose, CA 95131

+1 877 702-7873Telephone:
support@hypersurf.comE-mail: